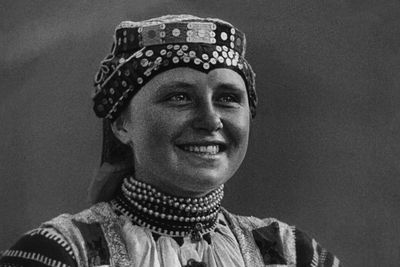 Over Mountains, Over Valleys (screening with live music accompaniment)
Po horách, po dolách (projekcia so živým hudobným sprievodom)
Director(s): Karel Plicka
CS
101 min.
1929
| | |
| --- | --- |
| Categories | documentary |
| Age rating | 15+ |
| Languages | (no words) |
| Black and white / colour | black & white |
"Got a horse named Fako, who carries me comfortably, over mountains, over valleys, over cold dew in the mornings". An ethnographical documentary Over Mountains, Over Valleys with a broader geographical framework records classical forms of traditional folk culture. It consists of sequenced thematic units containing brief profiles of distinctive Slovak villages where Plicka focused on the thematic uniqueness of the paintings. It portrays children's games set against the backdrop of the picturesque architecture of the village of Čičmany, the landscape of the Upper Hron region in Heľpa and the mountain scenery of the majestic mountain range Belianske Tatras in Ždiar. Youth, movement, demonstration of physical strength, ingenuity, dexterity and the immediate atmosphere of the children's games were Plicka's sought-after object to which he constantly returned.
Rastislav Steranka
screening with live music accompaniment (David Kollar a Tomáš Mutina)
Projection of Over Mountains, Over Valleys (screening with live music accompaniment) at Art Film Fest 2023
60 Years of the Slovak Film Institute
| | | | |
| --- | --- | --- | --- |
| | | | Film was already screened |