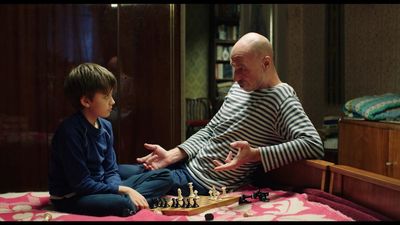 Rock. Paper. Grenade.
Ja i Felix
Director(s): Iryna Cilyk
UA
92 min.
2022
| | |
| --- | --- |
| Categories | fiction |
| Age rating | 15+ |
| Languages | Ukrainian (orig.) |
| Subtitles | English, slovak |
| Black and white / colour | color |
Little Timofey grows up in a small Ukrainian town. He lives with his mother and grandmother, who bring Felix – an Afghanistan veteran, former member of the counterintelligence, and an eccentric alcoholic – into their household. His presence is a source of extraordinary, hilarious, and dangerous experiences, and he partially replaces his father, an irresponsible gambler. It's the adventurous 1990s and the family has only modest funds to live on, a difficult situation for a teenager yearning for new sneakers and girlish admiration. The mother runs a door-to-door cosmetics business and leaves for a better life in Kyiv. Tima follows her, wanting to say goodbye to Felix, only he has disappeared. Years later, as an adult, he returns to the apartment with a lodger. He serves in the army. Grandma has died and the apartment is for sale. All that's left of the past are fleeting piano chords, a store of unneeded items, and the memory of Felix, a portrait of modest nostalgia for a time without war.
Projection of Rock. Paper. Grenade. at Art Film Fest 2023
| | | | |
| --- | --- | --- | --- |
| | | | Film was already screened |
| | | | Film was already screened |