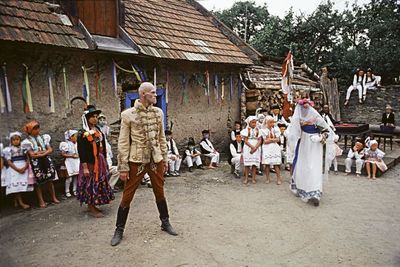 Deserters and Pilgrims
Zbehovia a pútnici
Director(s): Juraj Jakubisko
CS

,

IT
100 min.
1968
| | |
| --- | --- |
| Categories | fiction |
| Age rating | 15+ |
| Languages | Slovak (orig.) |
| Black and white / colour | color |
The short story cinematographic work Deserters and Pilgrims consists of three war stories. The first short story Deserters shows the dramatic story of deserters during the First World War who come into conflict with gendarmes and hussars. The fight escalates and ends with the deaths of the deserters and many innocent people. The second short story Dominika is set during the Second World War. The main actors are drunken partisans who take over a homestead and terrorize its inhabitants, and again it ends in needless killing. The last story Pilgrims is set in the future after an atomic war and ties all three stories together into a single unit aimed at drawing attention to the pointlessness of wartime rampage. The connecting link between the three stories is the character Death, who, though he survives and triumphs, is ultimately defeated as well, for there will be no one left in the world to kill.
Projection of Deserters and Pilgrims at Art Film Fest 2023
Tribute to Juraj Jakubisko
| | | | |
| --- | --- | --- | --- |
| | | | Film was already screened |