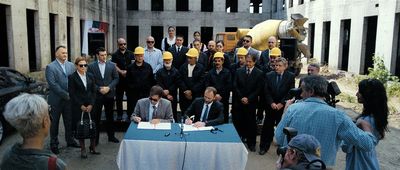 Working Class Heroes
Heroji radničke klase
Director(s): Miloš Pušić
RS
85 min.
2022
| | |
| --- | --- |
| Categories | fiction |
| Age rating | 15+ |
| Languages | Serbian (orig.) |
| Subtitles | English, slovak |
| Black and white / colour | color |
Lidija is a cold-hearted businesswoman working for a construction investor of dubious morals. Lidija's main task is to oversee the work of the illegal workers working on the construction site and protect the image of the company at all costs. In the meantime, the workers are brought face to face with the brutal reality of capitalism. Unpaid and exhausted, they have to take their fate in their own hands. When they decide to stand up for their rights, the construction site becomes the setting, where social classes and morals clash. Five years in the making, Working Class Heroes exposes relentless corruption, capitalism, and injustice in agame of "big fish eats small fish".
Projection of Working Class Heroes at Art Film Fest 2023
| | | | |
| --- | --- | --- | --- |
| | | | Film was already screened |
| | | | Film was already screened |