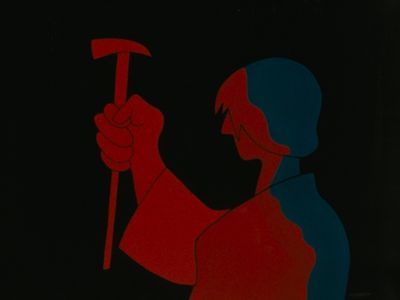 Brigand Jurko
Zbojník Jurko
Director(s): Viktor Kubal
CS
79 min.
1976
| | |
| --- | --- |
| Categories | animated |
| Age rating | 7+ |
| Languages | Slovak (orig.) |
| Subtitles | English |
| Black and white / colour | color |
Throughout cooperation on Brigand Jurko not a single day passed in which Viktor Kubal didn't reminisce about his childhood spent in Terchová with a group of young peers: they were inventing pranks, having risky fun with a knife, throwing a shepherd's axe, jumping over a fire, and climbing steep rocks. All part and parcel of children's world. A story born from the family of legends, fairy tales, and ballads about a mountain boy who was a Jánošík for a while, but much more a brigand, Jurko. He breathes on us from every shot, from every animation phase, from every note of Lexmann's music. The brigand's adventures, funny and charming, right up to the unexpectedly hilarious ending, have passed through several generations to settle permanently in this unique work, created by the hand of a writer, artist, animator, and director in one person. Viktor Kubal has brought his childhood dream to life in the film Brigand Jurko.
Rudolf Urc
Projection of Brigand Jurko at Art Film Fest 2023
60 Years of the Slovak Film Institute
| | | | |
| --- | --- | --- | --- |
| | | | Film was already screened |