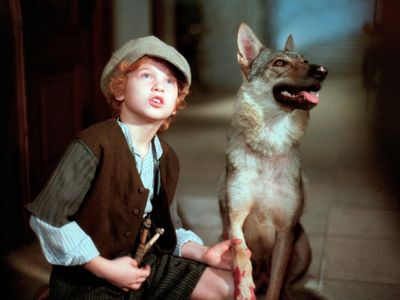 Freckled Max and the Ghosts
Pehavý Max a strašidlá
Director(s): Juraj Jakubisko
CS

,

BRD
100 min.
1987
| | |
| --- | --- |
| Categories | fiction |
| Age rating | 7+ |
| Languages | Slovak (orig.) |
| Subtitles | English |
| Black and white / colour | color |
A tale of one boy's thrilling adventure in Baron Frankenstein's castle with scary yet lonely creatures yearning for a little love. It could be considered a postmodern fairy tale because its ground plan is explicitly intertextual. In its fictional world, there is a concentration of characters that the viewer knows from elsewhere, such as Frankenstein, Count Dracula, the White Lady, etc. The film's intertextual ground plan is also emphasized by the hybridisation of different genre practices, and thus it appeals to viewers of all ages. Young viewers are attracted to the interesting and, given its aesthetic experience, thrilling story, while grown-ups are intrigued by the film's discourse, i.e. how the story is presented and the intertextual references linking the film to other work.
The film is also part of the Movies for Kids section.
Projection of Freckled Max and the Ghosts at Art Film Fest 2023
Tribute to Juraj Jakubisko
| | | | |
| --- | --- | --- | --- |
| | | | Film was already screened |
| | | | Film was already screened |