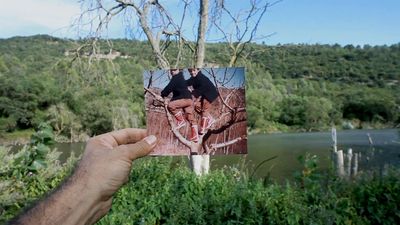 Zumiriki
Zumiriki
Director(s): Oskar Alegria
ES
122 min.
2019
| | |
| --- | --- |
| Categories | documentary |
| Age rating | 15+ |
| Languages | Spanish, Basque (orig.) |
| Subtitles | English, slovak |
| Black and white / colour | color and black&white |
Somewhere in the Basque mountains there is a river and an island. Oscar Alegria used to have childhood holidays there. He returns as an adult to spend a few months with nature, solitary memories, and meditation. While at first glance a less than riveting subject for a film, the result is an entertaining, almost experimental, visual essay. It comprises old family films and footage from the omnipresent camera, interviews with the last remaining local shepherds, and reflections on identity, life, and the meaning of existence in today's world. Alegria becomes Robinson in the pristine countryside, experiencing and commenting on various, often comical, incidents in a forgotten part of Europe.
"Zumiriki" is an old Basque word that means "island in the middle of the river". It is something that is seen in the film but is not explained, like everything important, everything that is revealed without being said.
Oskar Alegria
Projection of Zumiriki at Art Film Fest 2023
| | | | |
| --- | --- | --- | --- |
| | | | Film was already screened |
| | | | Film was already screened |