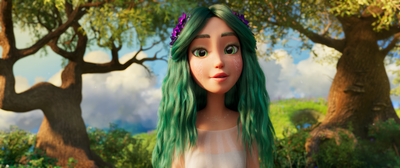 Mavka: The Forest Song
Mavka. Lisova pisňa
Director(s): Oleh Malamuž, Olexandra Ruban
UA
90 min.
2023
| | |
| --- | --- |
| Categories | animated |
| Age rating | 7+ |
| Languages | Ukrainian, Czech (dabing) |
| Black and white / colour | color |
Heart of the Forest's guardian. She falls in love with a man, an ordinary boy named Lucas, who manages to enchant her with his music. From time immemorial, the deep forests hide countless secrets and unfathomable mysteries. They are home to wondrous mythical creatures who live among the ancient trees and faithfully guard their sacred forest realm. And it is the fairy Mavka who is the newly elected guardian and soul of the forest. Her main mission is to protect the sacred Heart of the Forest, the source of life itself, from all evil, even from the world of men. But many of the forest's inhabitants have their doubts about whether the kind and gentle fairy Mavka can handle her new duties, especially when more and more obstacles come their way.
The plot of Mavka: The Forest Song captures the attention of both adults and children, whether with its spirit and originality or its humour and adventure.
Projection of Mavka: The Forest Song at Art Film Fest 2023
| | | | |
| --- | --- | --- | --- |
| | | | Film was already screened |
| | | | Film was already screened |